Applicants new to the Grants for Organizations (GFO) program must complete an Intent to Apply application to determine eligibility.
Intent to Apply applications are due September 15 annually. Eligible organizations complete a Full GFO Application.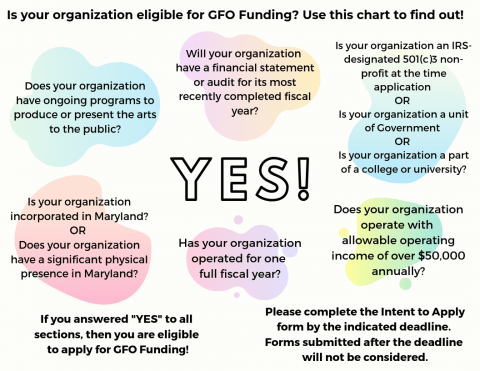 To confirm eligibility and complete the "Intent to Apply" form, you must be able to answer "YES!" to all five sections in the eligibility chart.
If you were not able to confirm all five but are still interested in learning more about the growth of your arts organization, please let us know how we can help by connecting you with GFO Program Staff.
Program Contact

Laura Weiss

Program Director, Arts Services; Disciplines: Dance, Literary Arts, Music, Public Art, Theatre

Program Contact

Emily Sollenberger Dobbins

Program Director, Arts Services; Disciplines: Arts Services, Folk & Traditional Arts, Multi-disciplinary, Visual Arts/Media